Interview with Hafid Derideche founder of Atlantic Europe Express
Hafid,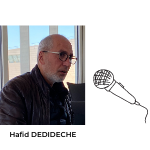 Today we would like to ask you some questions about Atlantic Europe Express, the transport company you founded in 2000 and which you have just sold to the Guyamier Group.
Atlantic Europe Express in figures:
18 employees, including 12 conducteurs most of whom have been with us for many years and who have all been taken over by the Guyamier Group.
16 latest generation vehicles, all euro6 class
3,6 millions euros in turnover
Atlantic Europe Express is today considered in France and in England as the leader on its market of connections to the United Kingdom.
But did you specialise in routes to the UK from the start?
Yes, from the beginning we have specialised in groupage to the UK. Indeed, since the beginning of my career, all my experiences were focused on England.
Today we are the only company in the whole of the South West to offer a groupage service to the UK from Monday to Friday and we are very proud to hear our customers say of us:
« If Atlantic Europe Express can't do it, I don't see who can »
A freight forwarder following a request from a client to whom we had been unable to respond positively.
What services do you offer?
We offer Transport Services from 1 pallet to a full truckload to and from the UK.
Atlantic Europe Express is the only company in the entire ¼ SO to offer daily departures to England.
What are your deadlines?
On average we deliver within 48 to 72 hours, but on request we can offer 24-hour transport.
Who are your clients?
Chartering offices, large freight forwarders or industrialists in sectors as varied as veneer, chemicals or dangerous transport (class 3 class 4)…
In France, 75% of our customers are direct customers and 25% are customers brought in by freight forwarders. In England, on the other hand, 90% are direct customers. We are even better known in the UK than in France 👍.
How can you provide daily transport at such short notice when your competitors cannot?
To ensure the quality of service and the speed of 90% of our transports, we rely on our drivers. They are true road professionals, specialists in cross-Channel connections and have been with the company for a long time. To optimise deliveries, the loading of trucks is organised by region of destination.
In order to satisfy the 10% of additional deliveries, we have built over the last 20 years a network of reliable and loyal partners who are located in strategic geographical hubs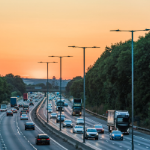 for our transportation.
The goods of our customers are thus deposited by our drivers at our local partners based on several strategically located hubs in order to be dispatched the next morning.
A Hub in Rugby – yes Rugby, the city where the sport was invented!
This Hub is located in the centre of England at the junction of the M1 London – Leicester and the M6 London – Birmingham – Liverpool. The city of Rugby is therefore ideally placed.
From Rugby we organise all our intra-regional and western transport.
Our partner based in Walsall carries out shuttle services to Ireland as well as oversized parcels for us.
The Witham site in the London area handles deliveries to central London where access is very limited for trucks and trailers.
Finally it is from Warrington that the connections to Scotland are made for 5 to 10 pallets.
In order to ensure the best transport and guarantee daily connections, we have set up a partnership with 4 British transport companies who work exclusively for Atlantic Europe Express. With these additional vehicles and drivers we can :
make Monday morning deliveries in England or Friday evening deliveries in England.
make collections from Monday to Friday in France or the UK, regardless of the day of the week.
Can you tell us about the Brexit and its impact on Atlantic Europe Express?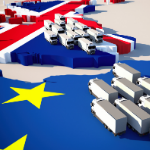 How long and how did you prepare for Brexit?
It is indeed a long story! We really started to worry about it at the end of 2018 by regularly attending meetings in Caen with Customs and Customs representatives, and by informing us of all the impacts that this would have on our organisation. We had to make the right choice of partners and chose SOGENA for import/export customs formalities in France in Caen and PORTICO for import/export customs formalities in England in Portsmouth.
BREXIT has made things more complex by forcing us to do a lot of administrative work that had disappeared thanks to Europe. Today our knowledge of customs procedures linked to our long experience in transport to the UK allows us, although we are not a customs declarant, to advise our clients who feel lost since the BREXIT.
In addition to the purely administrative constraints, BREXIT also obliges us to obtain an immigration visa for each of our drivers every week before their departure.
Transport to the UK has really become a specialist business.
This strengthens our leadership.
On April 16th you sold your company Atlantic Europe Express to Nicolas Guyamier. Can you tell us more about what led you to this sale?
I have known Nicolas Guyamier for several years, we were in contact professionally as Lacassagne-Groupe Guyamier also offers full truckload services to the UK, but it was not until November 2020 that we began to discuss the possible sale of Atlantic Europe Express to Groupe Guyamier. Indeed, I have reached a turning point in my career where I want to remain in the operational field without having to deal with the administrative side of managing a transport company.
On the other hand, I think that BREXIT coupled with the effects of the health crisis will lead to upheaval in our market. Some companies have not survived the economic situation, but others that are still at a standstill, I'm thinking of the aeronautics sector for example, will start up again in a few months and demand will probably be very strong.
Joining a group like the Guyamier Group will give the means to AEE to position itself on these markets and to develop the company's activity in a field where, as we said earlier, only the specialists will be able to make their mark by offering quality services.
Although you have sold your company, you are still working with Nicolas Guyamier, as Erick Picquenot did when he took over Lacassagne in late 2019.
Yes indeed, I love what I do and freed from the constraints of managing the company I will be able to devote myself to the development of the business – I like this idea!
The last subject we wanted to discuss with you is that Lacassagne is also working on links with the UK. What do you bring to the table that is specific to AEE?
We have already had the opportunity to work together on the reloading of trucks in England for UK-France transport.
We bring our knowledge of the market and market prices for partial loads, whereas Lacassagne has historically only offered full loads. We can also help them with all customs formalities…
Thank you 🙏 Hafid for all these clarifications, we wish you the best in your new professional life!